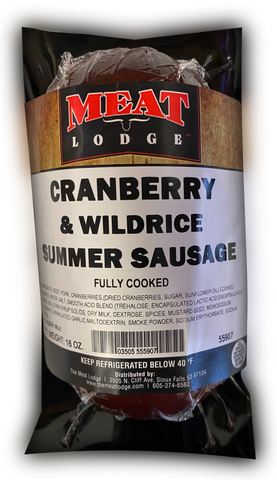 Cranberry & Wildrice Summer Sausage
Meat Lodge Cranberry & Wildrice Summer Sausage
Top quality summer sausage made right here in the Midwest! 
Approximate 1 lb. package.
INGREDIENTS: BEEF, PORK, CRANBERRIES,(DRIED CRANBERRIES, SUGAR, SUNFLOWER OIL) COOKED WILDRICE, WATER, SALT, SMOOTH ACID BLEND (TREHALOSE, ENCAPSULATED LACTIC ACID,ENCAPSULATED CITRIC ACID,) CORN SYRUP SOLIDS, DRY MILK, DEXTROSE, SPICES, MUSTARD SEED, MONOSODIUM GLUTAMATE, GRANULATED GARLIC,MALTODEXTRIN, SMOKE POWDER, SODIUM ERYTHORBATE, SODIUM NITRITE.
ALLERGEN: MILK.

PLEASE NOTE:  This item is perishable and ships frozen.  When selecting your shipping carrier you MUST select a shipping service with a MAXIMUM 2 day shipping time.  Perishable orders are shipped early to mid week to prevent any weekend delivery delays.  Please allow 1-5 day handling time depending on when your order is placed.  Shipping and tracking information will be sent once the order has shipped.
---
We Also Recommend
---